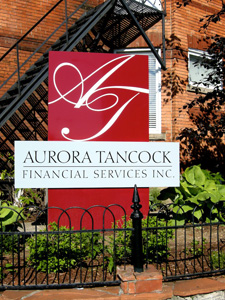 Aurora Tancock, President of Aurora Tancock Financial Services Inc., is an elegant lady, so it was important that the new identity we created for her would convey a sense of business solidarity combined with flair.
The revitalized identity for the company was coincidental with moving into new offices in a renovated building in downtown St. Catharines. Since the building is on a main intersection it was important to create dramatic signage that would be visible to cars whizzing by on Geneva Street.
We also applied the new identity to internal signage, a door plate, and a bold new stationery program.